Lawrence Taffaro03.2019Ancient Scripture, Essential Oils, Health and Fitness, Spiritual
After my wife lost her battle with cancer, the hospice nurse explained the benefits of becoming involved in new experiences. My daughters suggest having a SPA day. So, my Essential Oil journey began with Lavender Oil, during my first full body massage. The massage therapist used Lavender Essential Oil in creams she rubbed on my skin and aromatherapy to connect mind, body, and spirit. The next new experience was Yoga classes in a room filled with the aroma of Lavender Essential Oil. So, I purchased Lavender Oil form the Yoga Studio. After extensive research, I purchased a Young Living Essential Oil Premium Starter Kit from a friend to get Lavender Oil. I use all other oils in the Premium Starter Kit and attended the Young Living International Grand Convention, then became excited to teach everyone about the amazing benefits and uses for REAL Therapeutic-Grade Lavender Essential Oil! This is one of the most popular oils and a great "beginner" oil. This one is truly a must for every home because there is simply so much you can do with it.Most of the essential oils offered are "perfume quality" (synthetic) and only to be used in aromatherapy? Well, lavender is one of the biggest culprits in this "perfume" category. You will see lavender this, that and the other on the shelves of your favorite stores.However, therapeutic-grade lavender essential oil quality is different (distilled plants/plant juice), there are many fruits and other plant-based oils labeled for CONSUMPTION! Yep! I look forward to getting Lavender infused vanilla ice cream available, during the yearly Young Living Grand Convention.Lavender Oil is HIGHLY versatile. From skin care products to relaxing routines, this oil can infuse many areas of your life. As a matter of fact, you'll find lavender oil in oil blends such as Stress Away™, Harmony™ and Tranquil™. That might give you a clue about its benefits!HOW TO USEApply one drop or two drops of Lavender Oil to one hand and rub both hands together. Cup hands over the nose and inhale deeply to feel an overwhelming sense of relaxation to encourage "Mind-Body-Spirit" connection and inspire relief of stress!There are literally thousands of ways you can use Young Living's Therapeutic-Grade Lavender essential oil. I think a Google search might shock you, but here are a few examples:My nightly regimen (before sleep) includes inhaling Lavender Oil with an extra drop on my pillow. Add a few drops to your favorite shampoos, lotions, or skin care products to give your hair and skin extra radiance and a beautiful smell that lasts all day.Create a spa-like retreat by combining 1 cup Epsom salt with 4 drops of lavender and adding to a hot bath.Make a basic homemade body scrub with coconut oil, sugar, and lavender essential oil.Unwind with a lavender-infused neck or back massage.Use lavender as part of your evening routine by rubbing lavender oil on the bottom of your feet before bed or spritz your pillow with distilled water and lavender mixed in a spray bottle.Create a DIY room freshener with lavender or diffuse it to banish stale odors.Want to get away? Create your own relaxing retreat by diffusing lavender. Not only is its aroma soothing, but it also fills any space with a fresh, clean smell that eliminates odors.FUN FACTS YOU MIGHT LIKEYoung Living has three farms that grow lavender, located in Utah, Idaho, and France.Lavender is part of the mint family.It takes 27 square feet of lavender plants to make one 15-ml bottle of lavender oil.In ancient Greece, Pedanius Dioscorides—a physician, pharmacologist, and botanist—extolled the many qualities and uses of lavender.This is a must-have oil to start with and keep on hand. It comes in the Premium Starter Kit along with a few other quite stellar oils. Just scroll to the bottom of the description and hit ORDER NOW.Next time I'm going to tell you about how unique Therapeutic-Grade peppermint is! If you thought lavender was good, just wait!To dip your foot in the water and try some of these oils, just go to my website and choose the Premium Starter Kit. You can choose which starter kit is right for you. Of course, you could also start with just one bottle of oil. But I promise you will want more, and it is a better deal economically to grab a starter kit and get 24% off all future purchases!Disclaimer Notice: This information is intended for educational purposes only, and is not meant to substitute for medical care or to prescribe treatment for any specific health condition.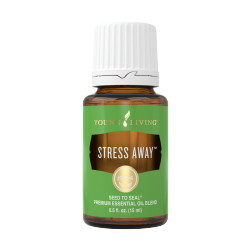 Stress Away™ essential oil blend is the first product to contain the unique combination of Lime essential oil and Vanilla extract. The distinct mix of Vanilla and Lime gives Stress Away essential oil blend its unique and pleasant aroma—among other benefits. Stress Away oil also includes Copaiba, which has a history of beneficial properties in topical application; Lavender, with its refreshing and calming scent; and Cedarwood, which features the powerful plant constituent cedrol. All of these ingredients are expertly blended with the exotic scent of Ocotea, a unique Ecuadorian-sourced essential oil. With a perfectly balanced aroma of both tropical and citrus notes, Stress Away essential oil blend is a uniquely relaxing oasis in a fast-paced world.
STRESS AWAY ESSENTIAL OIL USES
Diffuse it around your home after a long day for a fresh, soothing aroma.
Apply Stress Away oil to your wrists or back of neck while at work or school to enjoy its calming scent.
Add a few drops to a cotton ball and place it in the air vent of your car during long drives or during rush-hour traffic to create a calming environment.
Send kids to school on test day with Stress Away's soothing aroma.
Apply it to your wrists to wear it as a pleasant perfume.
Stress Away Essential Oil Blend Product Information Page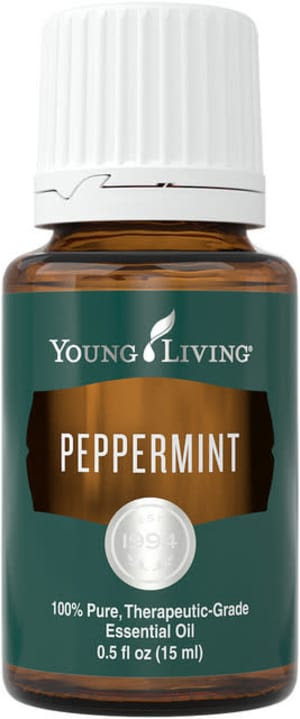 Apply one drop of Peppermint Oil to one hand and rub both hands together. Cup hands over the nose and inhale deeply to feel energized, excited and connection of Mind-Body-Spirit to inspire pain relief!
While on a cruise ship, I've experienced relief from indigestion. motion sickness and general unrest.
HINT: Young Living proprietary oil blends in which peppermint is a key ingredient include: Relieve It™and Deep Relief™ Roll-On essential oil blends. Yep, this is a great clue.
Used topically, it creates a cool, tingling sensation on the skin, great for making a sports massage and an important part of Young Living's Raindrop Technique®. It is also great for diffusing on its own or with compatible scents such as Lavender, Rosemary, Spearmint, or Sage!
HOW TO USEPeppermint & Peppermint Vitality
My daily regimen includes one-drop of Peppermint in 20-oz of water to clean-out my gastrointestinal system.
After a tough workout, dilute a few drops and use it in a refreshing post-workout massage.
Add peppermint and eucalyptus radiant to hot bath water and enjoy the relaxing, invigorating scent and aromatic steam.
Peppermint is in the same family as both lavender and rosemary. Diffuse the oils of these powerful botanicals together for a fresh aroma that uplifts the spirit.
When your day is dragging—through a workout, class, or day at work—enjoy some peppermint oil benefits by applying it to your head and neck.
Put a drop of Peppermint Vitality Essential oil on your finger and press it to the roof of your mouth.
FUN FACTS YOU MIGHT LIKE
It takes about a pound of peppermint plants to make one 15ml bottle of Young Living essential oil.
Spiders and mice don't like peppermint so we like to put about 20 drops in a small glass spray bottle and spray everywhere spiders and mice like to come in the house.
The Many AMAZING Uses of Lemon Essential Oil
My daily regimen includes one-drop of Lemon Oil in 20-oz.
Try diffusing lemon. Not only does it infuse your whole home with a clean, lemon-drop scent, but it will eliminate other odors at the same time.
Add a drop to evening moisturizer to reduce the appearances of blemishes puffy dark under eye circles. This is a great use for teenagers – senior citizens!
Add a few drops to your conditioner for an aromatic treat that smooths and shines the look of your hair.
Just a few drops of lemon oil will remove the sticky residue left behind from bottle labels and almost any sticky residue.
Diffuse a few drops each morning for an energizing start to the day.
Use a few drops for a DIY lemon-sugar scrub for a yummy-smelling at-home spa treatment.
Rub on your heels to get your feet ready for sandal season.
Crayon wall artist in your family? A few drops of lemon oil on a paper towel works magic to remove crayon from walls.
Forgot a load of laundry overnight? Just add a few drops to the wash cycle and your clothes will smell fresh and clean without using more detergent.
Degrease your pots, pans, and sink by adding a few drops to your dish water.
Add to your dishwasher rinse cycle for a spotless shine on your dishes.
Stinky dish rags? Try soaking them in vinegar and lemon oil overnight then wash them as normal.
Freshen up your garbage disposal by running a few drops mixed with baking soda through it.
Add a few drops on a cotton ball and put in your vacuum cleaner, trash can or diaper pail to help eliminate odors.
Add a few drops to the baking soda in your refrigerator to soak up the stink.
Add a few drops to a cotton ball and store inside stinky shoes to eat odors.
Remove hardened candle wax from hard surfaces and glass with a few drops of lemon oil.
A DIY clean hair rinse = 1 cup water + 2 tablespoons apple cider vinegar + 3 drops lemon oil.
For an energizing bath, mix a few drops lemon oil with a cup of Epsom salts.
Rub on your dry elbows to get ready for summertime.
Add a few drops to a clothespin and pin it to your car air vent for an instant (and super cheap!) mini-diffuser.
Bathroom tip: A spray bottle of water with a few drops lemon oil (and Purification) will eliminate odors discreetly.
Lemon oil + vinegar in the shower removes hard water stains and unsightly mildew. Soak shower heads for a sparkling shine.
A few drops of lemon oil easily releases gum from carpet, hair and more. No scissors required.
Garden aphids hate lemon and peppermint oil. A few drops in a spray bottle of water and bye-bye garden pests.
Combine 2-3 drops with water in a spray bottle to help clean surfaces.
Know a mechanic who has dirty hands? Try using lemon oil to clean those hands and nails.
If you get a bit of sap on your fingers from your Christmas tree (or any tree), just try lemon oil on your fingers to remove it.
If you have any real silver lying around, try buffing away a slight tarnish with a bit of lemon oil and a dry cloth.
Try substituting a few drops Lemon Vitality oil in any recipe calling for lemon juice or lemon extract.
Soak cut fruit in a bowl full of water mixed with a few drops Lemon Vitality oil to help maintain freshness.
Want a fun hot drink? Try putting a drop of Lemon Vitality oil in a cup of hot water with a drizzle of honey for a soothing tea.
Because some citrus oils like Lemon can cause photosensitivity,
avoid applying to exposed skin before spending time outside.
Spring Diffuser Blends
While you're hustling through your cleaning or kicking up your feet in your tidy new space, these springtime diffuser blends are a refreshing way to fill the air, any time of year!
Spring Showers
3 drops Vetiver
3 drops Lemon
Fresh & Clean:
2 drops Lemon
2 drops Lime
1 drop Rosemary
1 drop Lavender
Yes, 100% Pure Therapeutic-Grade Lemon Essential Oil is in the starter kit! This is a must-have oil for all households! Take a look what a fantastic pricing deal you can get with a Premium Starter Kit.FRANKINCENSEIn Young Living's own words, it's no surprise that Frankincense (Boswellia carterii) has been sought after since ancient times. The complex aroma of this oil can elevate many aspects of your life.
My daily regimen includes putting one drop of Frankincense under my tung.
Rub a drop or two on your temples and across your forehead and note how you feel before and after.
Diffuse before bedtime.
Drop a few drops along your spine and rub it in.
Massage a couple of drops on the bottoms of your feet.
Add to your favorite body lotion.
Create a beauty serum for your face with 2 drops of Frankincense, 2 drops of Lavender, and 8 drops of a fractionated coconut or other carrier oil.
GROUNDING & CONNECTEDNESS – Diffuse or otherwise inhale Frankincense to refine your sense of purpose. With its uplifting aroma, it is perfect for grounding and spiritual connectedness. Create a safe and comforting environment when you diffuse or inhale this empowering oil—a perfect opportunity to collect your thoughts. When you seek purpose or engage in prayer or meditation, use this oil to enhance your mind-spirit connection to experience a heightened awareness.
HINT:
Frankincense is also an important ingredient in skin care and joint pain products. Add it to your beauty routine for a luxurious experience!
Use Peppermint Frankincense, before applying joint pain products.
Yes, 100% Pure Therapeutic-Grade Frankincense Essential Oil is in the starter kit! This is a "magical" oil, in my opinion, that makes it well worth the investment. But take a look at what a fantastic deal you can get on Frankincense with a Premium Starter Kit. Yes, you can start with less than a Premium Starter Kit, but it is just such a stellar value for what you get.
If you'd like to learn more, just go to my website. Check out the starter kits and see all the great oils that are included in it. If you appreciate huge discounts, this is for you! Do you have any questions I can answer?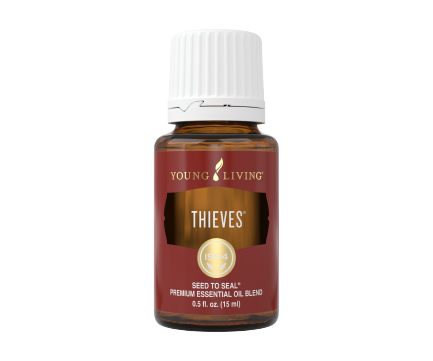 Thieves essential oil blend is a powerful combination of Clove, Lemon, Cinnamon Bark, Eucalyptus Radiata, and Rosemary essential oils that fills any space with a rich, spicy aroma.
As one of our most popular products, it's no wonder that Thieves is included in so many of our home cleaning and personal care products. It is a key ingredient in Thieves® Cleaner, Thieves® Waterless Hand Purifier, Thieves® Wipes, and Thieves® Foaming Hand Soap. Thieves blend is your go-to for an invigoratingly clean and spicy scent that smells more like fall baking than harsh cleaning formulas.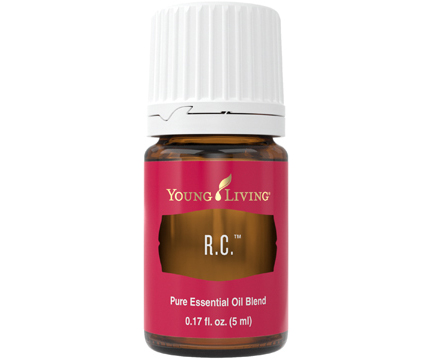 R.C.™ Essential Oil is a powerful blend of Spruce, Cypress, and three types of Eucalyptus oils (E. globulus, E. radiata, and E. citriodora).
Diffuse or apply it directly before, during, or after your workout. Its energetic aroma will help you stay motivated when you hit the weights, treadmill, or bike.
You can also combine Young Living R.C. oil with V-6™ Vegetable Oil Complex for an invigorating massage. This routine creates a relaxing spa-like experience and can even help when your day demands that you be out and about earlier than usual. Its robust scent will help you perk up as your day begins.
R.C. is also a great substitute for Aroma Siez™ in Young Living's Raindrop Technique®.
R.C. ESSENTIAL OIL USES:
Rub on your chest and back of the neck before an early-morning workout.
Use with V-6™ Vegetable Oil Complex for a foot or back massage after your gym routine, outdoor adventure, or yoga practice.
Place a few drops in a hot bath or shower. The warm water will calm and soothe you, and the oil will diffuse with the steam for an invigorating and empowering experience.
Brighten your outlook during early-morning errands by applying R.C. oil to your chest and wrists.
DiGize™ essential oil is one of our most unique essential oil blends, combining Tarragon, Ginger, Peppermint, Juniper, Lemongrass, Anise, and Patchouli oils for a spicy, exotic aromatic blend. DiGize oil also includes Fennel essential oil, the use of which dates back to ancient Egypt.
To enjoy its rich, calming scent, diffuse in your home, office, or even car. You can even apply it directly to chest, wrists, and abdomen to enjoy its scent wherever you go.
DIGIZE ESSENTIAL OIL USES:
To help you wind down for the evening, diffuse DiGize essential oil to enjoy its relaxing aroma.
The relaxing scent of the essential oils in DiGize makes it a perfect fit for diffusing in the home or even the car to help your kids feel calm during long rides.
Apply PanAway® after exercise or to the neck and back anytime for a soothing and stimulating aromatic experience.
PANAWAY® ESSENTIAL OIL IS A POPULAR BLEND FORMULATED BY YOUNG LIVING FOUNDER D. GARY YOUNG THAT HAS A REFRESHING, INVIGORATING AROMA AND COOLING SENSATION WHEN APPLIED TO THE SKIN. PANAWAY OIL IS A COMBINATION OF WINTERGREEN, HELICHRYSUM, CLOVE, AND PEPPERMINT ESSENTIAL OILS. POPULAR PANAWAY® OIL USES INCLUDE APPLYING IT TO TIRED MUSCLES AFTER EXERCISE OR TO THE NECK AND BACK ANY TIME OF DAY TO ENJOY ITS SOOTHING AND STIMULATING AROMA. PANAWAY OIL IS ONE OF YOUNG LIVING'S MOST EFFECTIVE AND POPULAR PRODUCTS AND IS A MUST-HAVE FOR EVERY HOME!
PANAWAY OIL USES
Combine PanAway with a carrier oil and massage it into your shoulders and neck for a cool, stimulating aroma.
Rub a single drop of diluted PanAway essential oil into your temples when you are in heavy traffic or crowded, loud spaces such as an airport.
Apply diluted oil onto the bottoms of your feet for a relaxing foot massage.
Make your own soothing bath salt by adding about 10 drops of PanAway essential oil to a cup of Epsom salt. Add a scoop of the bath salt to warm bath water and relax in a spa-like atmosphere.
Ditch overpowering and harsh chemical-based sprays and keep your home smelling fresh and clean with Young Living's Purification® essential oil. This blend is made up of six essential oils for the ultimate weapon against odors. Citronella, Lavandin, Lemongrass, Rosemary, Myrtle, and Tea Tree work together to create a refreshing, bright scent that keeps you and your family happy and comfortable.
With Purification oil, you'll never need to feel embarrassed by bad odors from cooking, laundry, pets, or anything else life throws your way. Diffuse it throughout your house or use a more targeted approach so you always feel confident in your home, in the car, or on the go!
PURIFICATION ESSENTIAL OIL USES
Add a few drops to laundry to give your wash a great-smelling boost.
Place a few drops on cotton balls and stash them wherever necessary: the car, closets and drawers, air vents, or shoes.
Use in the car with a USB Diffuser to eliminate lingering scents of fast food trips or the soccer carpool.
Refresh linens with a spritz of Purification, diluted with distilled water.
Create an on-the-go air freshener with a spray bottle, distilled water, and Purification. Keep it in your bag to freshen up offices, public restrooms, hotel rooms, and cars.
INGREDIENTS
Cymbopogon nardus† (Citronella) oil, Rosmarinus officinalis† (Rosemary) leaf oil, Cymbopogon flexuosus† (Lemongrass) Oil, Melaleuca alternifolia† (Tea tree) leaf oil, Lavandula hybrida† (Lavandin) oil, Myrtus communis† (Myrtle) oil
The gum resin tapped from the copaiba tree in Brazil is steam distilled to produce Copaiba essential oil, which is known for its high levels of beta-caryophyllene and a sweet aroma.
Known for its gentle, woodsy aroma, Copaiba essential oil is a product of steam distilling the gum resin tapped from the Brazilian Copaifera reticulata tree. With high levels of beta-caryophyllene and a uniquely sweet aromatic profile, Copaiba oil helps create a relaxing atmosphere when diffused or applied topically.
Its warm aroma also makes Copaiba a great addition to your daily routine and skin care. Add it to a neutral moisturizer to utilize its natural fragrance and moisturizing properties or apply it to flex points following activity for an uplifting, comforting cooldown.
COPAIBA ESSENTIAL OIL USES
INGREDIENTS
Copaiba (oleoresin) (Copaifera officinalis)† wood oil†100% pure, therapeutic-grade essential oil